Click & Collect
Buy Online, Pick Up Curbside
Buy Online & Choose "Pick Up In Store"
---
Enter your zip code on product page to check for nearest pick-up store.

Look for

icon on products available for pick-up.

Select your preferred PartsAvatar location for free pick-up during checkout.
Head to Store with Order Confirmation
---
You will be notified by

SMS/Email

once your order is ready for in-store pick-up.

After you receive an

SMS/Email

that your order is ready, drive to the store and park in the designated area.
We'll Bring It Out for You
---
Have your

order number

and

photo ID

on-hand and call the phone number and extension listed on the store's door.

Let them know you're there for Curbside Pick-Up. An associate will bring the item(s) out for you.
Contact Customer Service
Our experts are here to help!
Frequently Asked Questions
1. Order parts online, choose the "pick up" option at checkout, if available. (If this option is not available, then unfortunately they are not eligible for a local pickup). Currently, we have Pick-up & Return Services only in GTA, Brampton Area..

2. Wait for an SMS notification, indicating parts are ready at our local pickup location.
3. Curbside Pick-Up is available in Edmonton Area.
4. Arrive with your Order ID and a photo ID, between 10 AM – 4:30 PM EST Mon-Fri. (Timings will be different for all other regions). Stay Tuned for updates on your local city pickup location!
*Note: We do not SELL directly at the Pick Up Location, it is only pick up, drop-off & returns. We do not accept payment or do refunds at the locations.
At the moment, we have pick up services in Greater Toronto Area, Brampton and Edmonton. You can still order items to your home or P.O. box for free over $75. We will be launching a similar pick up service in select cities across Canada in the near future. Stay tuned!
We will also be offering Free drop-off & returns services for the selected cities.
We do recommend our pick up option for delicate items such as bulbs, assemblies and glass components, to lower any risk of damage, as well as very heavy or over-sized items that may take extra long to ship to your home. PPick up service is faster by a day or more, than shipping parts to your home If you are located close to our pick up location, you can come to our warehouse in our working hours Mon-Fri, after you receive the confirmations SMS. You can also do returns at our pickup locations for any faulty parts.
If you want to return the product for any reason you can do so within 30 days of delivery provided the part has not been used or damaged by you. You can also do a core return at our pick-up location nearby. The part should be returned with the original packing and in the same condition as it was at the time of delivery. If you have any queries relating to the part after the expiry of 30 day period, you can contact the manufacturer of the part.
You will receive a confirmation email letting you know when your order is ready for pick-up.
You may present yourself in-store at the Customer Service counter with a photo ID and the email confirmation you received in order to pick up your order.
The person whose contact information appears on their order is the only person who is authorized to pick it up.
Once the order is placed, the pick-up location cannot be changed. Please contact customer service for more assistance.
You have one week to pick up your order once you have received your pick-up confirmation email. If the order is not picked up within this timeline, the store will contact you to make other arrangements.
You would have to place two different orders, one for in-store pickup and the other to be shipped.
The full order total will be charged to your account once you have received the confirmation email that your order is ready for pick-up.
Contact customer service by phone, email or LiveChat for more information.Click Here
Present yourself at the Customer Service counter to pick up your order.
Find your nearest store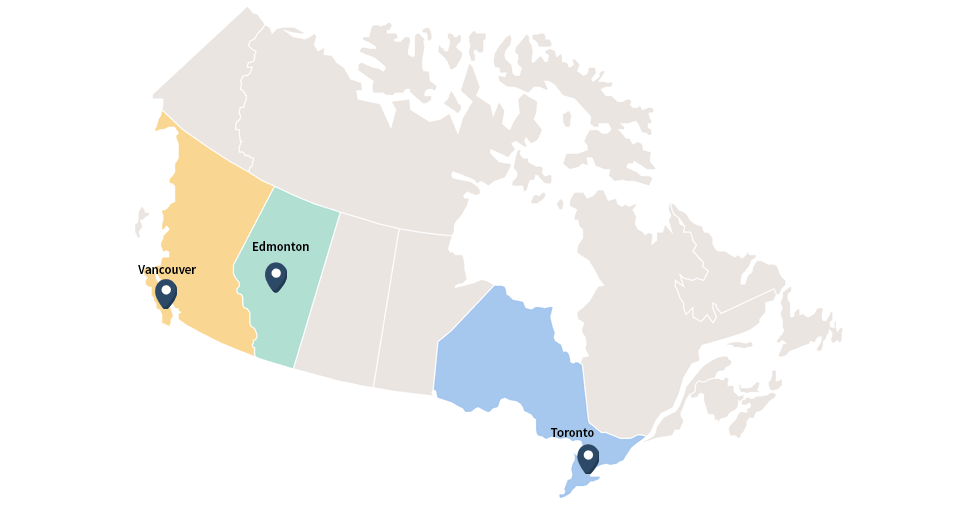 PartsAvatar Edmonton
18211-105 Avenue
Unit 101, Edmonton, AB T5S 2L5

Store Hours
Mon-Fri:
10AM - 4:30PM MST
PartsAvatar Mississauga
6127 Shawson Dr,
Mississauga, ON L5T 1E4