Enhance Car Safety With The Right Lights
Drive Safe by Using The Correct Car Lights
Driving a car can bring a bunch of experiences for the driver. Some people love driving, some just like to limit to needs, some enjoy late-night long drives or even a road trip. No matter what your driving style and need is; safety takes the front seat.
The automobile lights are a significant part of ensuring road safety for the driver and passengers in the car as well as pedestrians on the road and other drivers. No doubt damaged or nonfunctional car lights can cause you to get in trouble legally, it's also not ethical as a human being.
Maximize Safety With Car Lights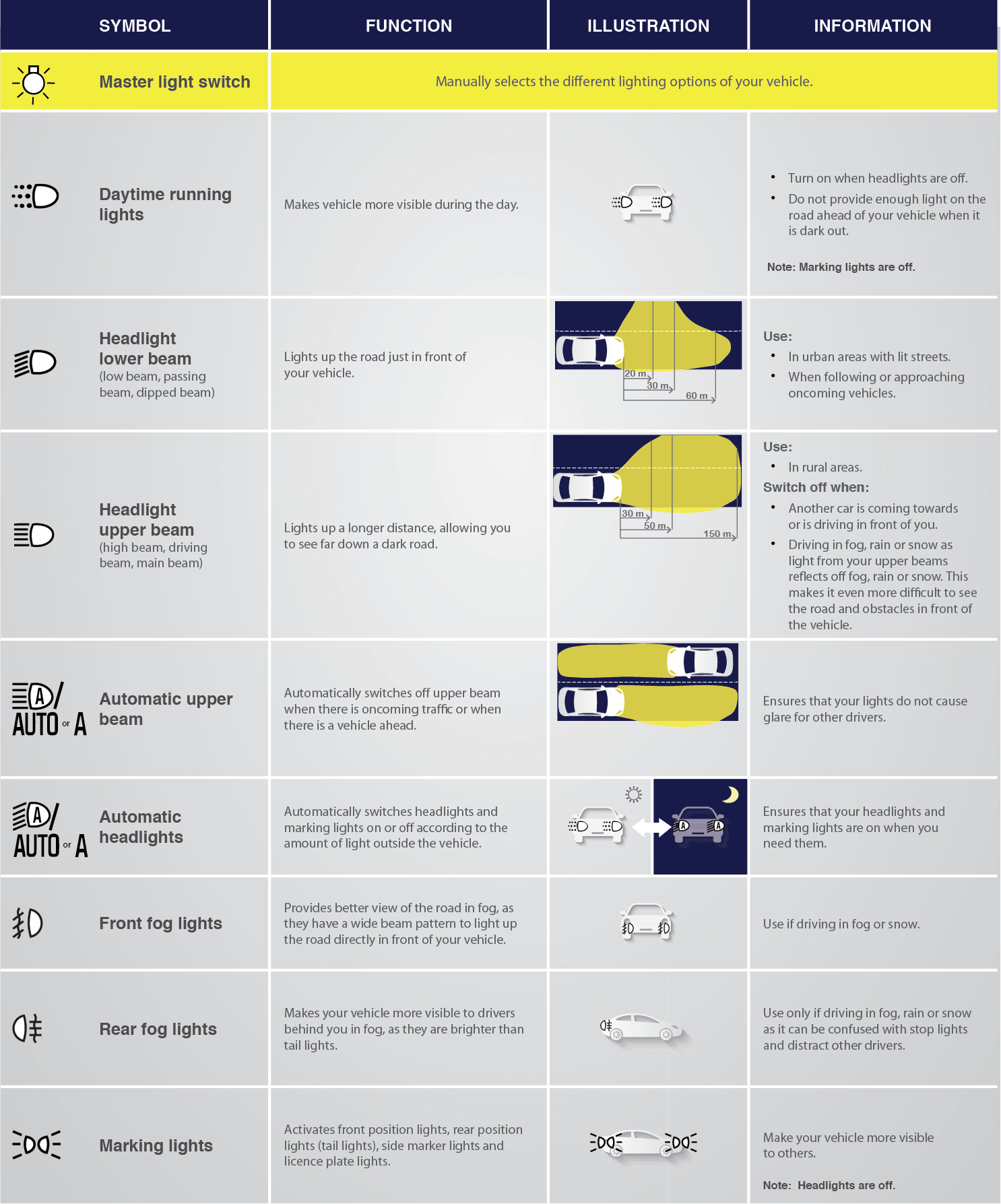 Source https://www.tc.gc.ca/en/services/road/safety-standards-vehicles-tires-child-car-seats/using-vehicle-lights.html
Here are some ways you can ensure you drive safely with the right car lights, for the right time/purpose.
Daytime Running Lights- These essentially help your car stay visible during the daytime. Are to be used when the headlights are off, note that these will not be able to provide enough lights during darker winter mornings.




Headlight - These are used for a variety of purposes depending on their needs and beam setting.
Lower beam - Is able to light up the road just in front of your vehicle. It can be used in urban areas, where the street-lit is well, or when following or approaching an oncoming vehicle on the road.

Higher beam - This lights further ahead allowing better visibility even when it may be dark. The high beam is great when driving in rural dark areas, but bear in mind to not use them when it's raining, snowing, or is foggy, these beams tend to reflect off these, and lower your visibility of the road, any obstacles, or other vehicles in the front.



3. Fog lights - As the name suggests, their job is to improve visibility when the weather is foggy. Many people tend to avoid driving during such weather to stay away from accidents, having the knowledge of the right light usage can help keep you and others on the road safe.
Front fog lights - Helps in providing a clearer view of what's in front. They have a wide beam that allows them to light up the road directly in front of your vehicle. You can use them during snow as well.

Rear fog lights - Helps the vehicle behind you to view you better. These lights are brighter than tail lights and hence crucial for road safety during snowy and foggy times. It is important to note that these should only be used in such weather conditions, otherwise they would be confused with stoplights, causing a distraction on the road for other drivers.



4. Indicators - Indicators are important for driving, they allow others on the road to know your direction of driving. Make sure they are checked regularly and are functioning properly, to avoid accidents on the road.
Apart from the lights that help in navigation on the road, automotive lightings include interior lights as well. These would be step and courtesy lights, ashtray lights, and console lights to name a few. You can light up your automotive interiors for a better experience by shopping with us online. We make shopping for car replacement super easy, shipping products right to the doorstep anywhere in Canada.
GUIDES &
ARTICLES
Articles and Guides that are written with the help of mechanics to ensure you have all the knowledge you need to make the correct purchase here at PartsAvatar.
Read all Guides & Articles